---
Nylon Arrow Clips: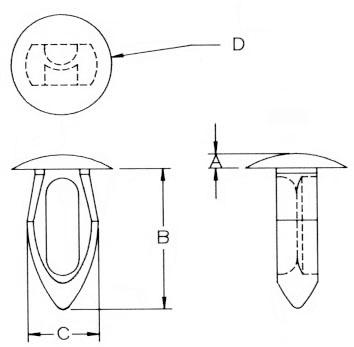 Arrow Clips are reusable, molded nylon fasteners that feature an inexpensive fast method to hand assemble metal, wood, plastic, composition, or other thin gauge materials.

The specially designed body compresses as it is forced through a pre-punched hole and springs back to its original shape to lock the assembled parts securely.

The versatile clips can be disassembled and reused again and again. They provide an economical, electrical insulating, vibration, abrasion, and corrosion resistant connection.

The following are some of the more common sizes. Because of a unique tooling approach, designs can be varied over a wide range. Request the size you need.
| | | | | | | | |
| --- | --- | --- | --- | --- | --- | --- | --- |
| Item Number | Description | Hole Size | Panel Thickness Range | Head Dia. D | Head Height A | Length B | Clip Dia. C |
| 27AC0001 | AC 1 | .182 / .192 | .062 / .125 | 0.36 | 0.06 | 0.4 | 0.225 |
| 27AC0002 | AC 2 | .131 / .135 | .062 / .125 | 0.27 | 0.06 | 0.395 | 0.16 |
| 27AC0003 | AC 3 | .151 / .161 | .062 / .125 | 0.28 | 0.04 | 0.39 | 0.196 |
| 27AC0004 | AC 4 | .151 / .161 | .062 / .145 | 0.28 | 0.08 | 0.4 | 0.18 |
| 27AC0005 | AC 5 | .213 / .223 | .125 / .187 | 0.37 | 0.06 | 0.54 | 0.248 |
| 27AC0006 | AC 6 | .182 / .192 | .310 / .330 | 0.37 | 0.06 | 0.54 | 0.225 |
| 27AC0007 | AC 7 | .213 / .223 | .062 / .125 | 0.37 | 0.06 | 0.45 | 0.225 |
| 27AC0009 | AC 9 | .250 / .260 | .125 / .187 | 0.484 | 0.06 | 0.575 | 0.29 |
| 27AC0010 | AC 10 | .062 / .065 | .010 / .031 | 0.1 | 0.02 | 0.125 | 0.068 |
| 27AC0011 | AC 11 | .182 / .192 | .165 / .185 | 0.375 | 0.06 | 0.525 | 0.206 |
| 27AC0012 | AC 12 | .195 / .200 | .035 / .065 | 0.37 | 0.06 | 0.35 | 0.225 |
| 27AC0013 | AC 13 | .130 / .132 | .125 / .140 | 0.27 | 0.07 | 0.31 | 0.162 |
| 27AC0014 | AC 14 | .145 / .150 | .290 / .300 | 0.27 | 0.07 | 0.53 | 0.196 |
| 27AC0015 | AC 15 | .118 / .122 | .062 / .125 | 0.28 | 0.06 | 0.39 | 0.15 |
| 27AC0016 | AC 16 | .250 / .260 | .360 / .380 | 0.615 | 0.065 | 0.81 | 0.286 |
| 27AC0017 | AC 17 | .320 / .335 | .062 / .340 | 0.683 | 0.07 | 0.9 | 0.375 |
| 27AC0018 | AC 18 | .160 / .165 | .032 / .125 | 0.28 | 0.08 | 0.4 | 0.186 |
| 27AC0019 | AC 19 | .330 / .340 | .125 / .350 | 0.685 | 0.07 | 0.895 | 0.37 |
| 27AC0020 | AC 20 | .120 / .135 | .062 / .125 | 0.27 | 0.04 | 0.33 | 0.14 |
| 27AC0021 | AC 21 | .250 / .260 | .125 / .250 | 0.5 | 0.05 | 0.63 | 0.28 |
| 27AC0022 | AC 22 | .085 / .090 | .032 / .107 | 0.125 | 0.03 | 0.187 | 0.107 |
| 27AC0023 | AC 23 | .335 / .345 | .062 / .140 | 0.866 | 0.05 | 0.45 | 0.363 |
| 27AC0024 | AC 24 | .250 / .260 | .500 / .750 | 0.61 | 0.068 | 1.135 | 0.287 |
| 27AC0026 | AC 26 | .240 / .260 | .095 / .218 | 0.75 | 0.055 | 0.632 | 0.281 |
| 27AC0027 | AC 27 | .062 / .065 | .010 / .031 | 0.1 | 0.02 | 0.187 | 0.068 |
| | | | | | | | |
| --- | --- | --- | --- | --- | --- | --- | --- |
| Item Number | Description | Hole Size | Panel Thickness Range | Head Dia. D | Head Height A | Length B | Clip Dia. C |
| 27AC0028 | AC 28 (No Webbing) | .192 / .212 | .062 / .125 | 0.375 | 0.06 | 0.45 | 0.235 |
| 27AC0029 | AC 29 | .330/.340 | .125/.350 | 0.475 | 0.07 | 0.895 | 0.37 |
---