---
Square Base with Threaded Stud: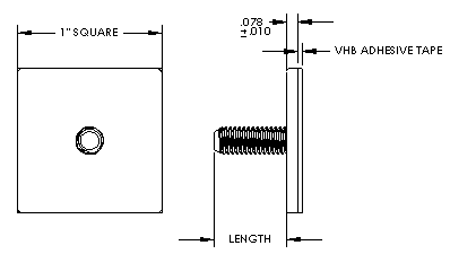 Our Nylon Base with Threaded Stud has very high bond (VHB) white closed cell acrylic foam carrier with all-purpose acrylic adhesive. Shear and peel strength is very high and material has very good solvent resistance.
Acrylic adhesive has fair initial adhesion with gradual adhesion build-up over 72 hours. Surface must be unified, dry, and free of contamination. Firm pressure must be applied to increase the cold flow and contact of the adhesive with the substrate.
Part can be purchased without VHB adhesive foam. Add WOAF to the end of the part number.
| | | |
| --- | --- | --- |
| Item Number | Description | Tolerance on Length |
| 011032ABTS050 | 10-32 X 0.5 | +0.000/-.020 |
| 011032ABTS050WOAF | 10-32 X 0.5 | +0.000/-.020 |
| 011032ABTS075 | 10-32 X 0.75 | +0.000/-.030 |
| 011032ABTS075WOAF | 10-32 X 0.75 | +0.000/-.030 |
| 011032ABTS100 | 10-32 X 1 | +0.000/-.030 |
| 011032ABTS100WOAF | 10-32 X 1 | +0.000/-.030 |
| 012520ABTS050 | 1/4-20 X 0.5 | +0.000/-.030 |
| 012520ABTS050WOAF | 1/4-20 X 0.5 | +0.000/-.030 |
| 012520ABTS075 | 1/4-20 X 0.75 | +0.000/-.030 |
| 012520ABTS075WOAF | 1/4-20 X 0.75 | +0.000/-.030 |
| 012520ABTS100 | 1/4-20 X 1 | +0.000/-.030 |
| 012520ABTS100WOAF | 1/4-20 X 1 | +0.000/-.030 |
| 013118ABTS050 | 5/16-18 X 0.5 | +0.000/-.030 |
| 013118ABTS050WOAF | 5/16-18 X 0.5 | +0.000/-.030 |
| 013118ABTS075 | 5/16-18 X 0.75 | +0.000/-.030 |
| 013118ABTS075WOAF | 5/16-18 X 0.75 | +0.000/-.030 |
| 013118ABTS100 | 5/16-18 X 1 | +0.000/-.030 |
| 013118ABTS100WOAF | 5/16-18 X 1 | +0.000/-.030 |
---