---
Tubular Emblem Clips: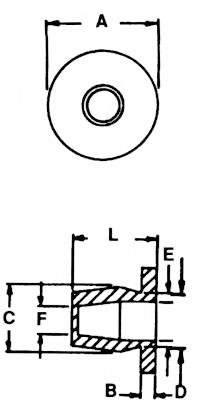 Tubular Emblem Clips or Speed Nut Clips offer a low cost substitute to the expensive all metal or metal/rubber clips.

These easily installed, molded low density polyethylene clips eliminate paint and surface damage.

The inevitable rust associated with the sharp, metal parts they can replace is also eliminated by the electrically insulating, non-cathodic plastic clip.

| | | | | | | | | |
| --- | --- | --- | --- | --- | --- | --- | --- | --- |
| Item Number | Description | A | B | C | D | E | F | L |
| 60TC125250 | 1/8 X .250 Tube Clip | 0.344 | 0.046 | 0.209 | 0.125 | 0.187 | 0.1 | 0.25 |
| 60TC155200 | 5/32 X .200 Tube Clip | 0.344 | 0.046 | 0.239 | 0.155 | 0.22 | 0.145 | 0.2 |
| 60TC155360 | 5/32 X .360 Tube Clip | 0.344 | 0.046 | 0.239 | 0.155 | 0.22 | 0.125 | 0.36 |
| 60TC155600 | 5/32 X .600 Tube Clip | 0.344 | 0.046 | 0.239 | 0.155 | 0.22 | 0.125 | 0.6 |
---